Samoa and Fiji Photo Gallery
We flew to American Samoa from Hawaii and stayed a week before flying to Western Samoa. Boy what a change was W. Samoa. It is exactly what Hawaii must have been like 100 years ago.
After Samoa we flew to Fiji and stayed 1 month. We went to 3 islands. The main one, the big one up north, then to Taveuni. One thing I can say about Fiji is the diving is unbelievable. Visibility is excellent and the coral is beautiful. Taveuni was our favorite as it was very quiet and we could do our own thing without a lot of hastle.

It was still early in our travels so our patience was not quite as developed as would be necessary to completely enjoy Fiji. This was our first experience with the slow life...
• Samoa and Fiji Photos • New Zealand Photo Gallery • Australia Photos • Phillipines and Singapore Photo Gallery • Malaysia and Thailand Photo Gallery • Cambodia • Viet Nam Photo Gallery • China Pics • India Part 1 • Nepal Photo Gallery •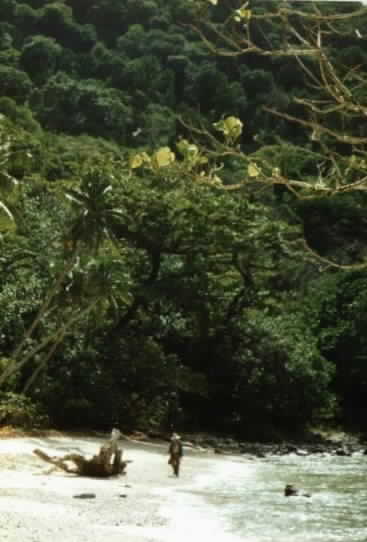 The beach where we spent 3 nights camping. A beautiful beach with great snorkeling, fishing, and thank goodness, a fresh water stream to soak in for relief from the mozzies (Mosquitoes).
Copyright © 2002 by Robert and Melissa Gunter. All rights reserved.