Cambodia Photo Gallery
Cambodia was a strange place. You could buy rockets in the main market, or go fire AK47's and throw grenades... The usual tourist fare. In Phnom Penh things were pretty low key... at least during the day. Travelers were warned not to go out at night or leave touristed areas. Some did, others actually lived to tell about it. The State Dept warnings were pretty lame. In Angkor we saw lots of people carrying rifles, machine gun nests at intersections, and mortar emplacements on hills. It was not safe to be out at night....
A country of contrasts. Incredible beauty amid tremendous brutality. Some of the pictures may be disturbing, but it is important to remain aware of what lies under the surface of human behavior. Terrible things have happened in Cambodia, as it has in so many places.
• Samoa and Fiji Photos • New Zealand Photo Gallery • Australia Photos • Phillipines and Singapore Photo Gallery • Malaysia and Thailand Photo Gallery • Cambodia • Viet Nam Photo Gallery • China Pics • India Part 1 • Nepal Photo Gallery •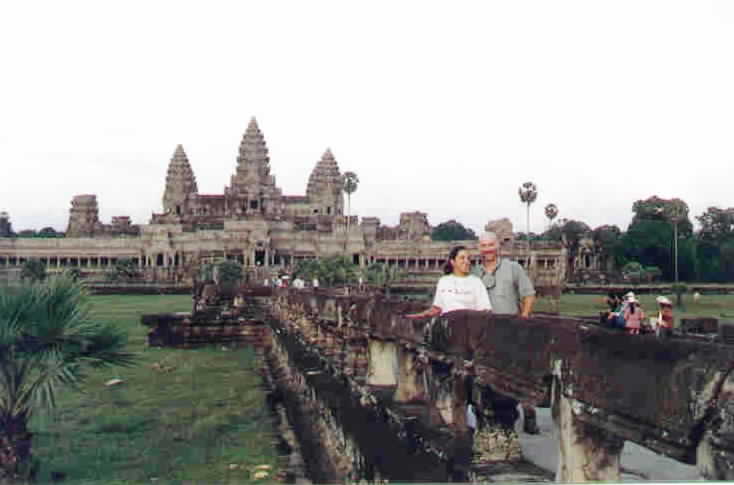 Here we are on the main causway past the entrace to Angkor Wat (in the background). Angkor Wat is on a square island over 2 miles in diameter. A moat encircles the island with a main causway leading to the entrance. The causway is about 1/2 mile long and at elephant height. The main landing on the temple complex is at a height to allow disembarking your elephant to enter. The walls of Angkor Wat are carved with scenes from Hindu and Buddhist mythology from floor to ceiling. The temple itself is about 1/4 mile on a side.
Copyright © 2002 by Robert and Melissa Gunter. All rights reserved.