• Home • Alaska To Mexico 2000 • Around the World Photos • World Travel Journals • 4x4 Vans • Contact Us •
CAMBODIA
May 1 - May 18, 1997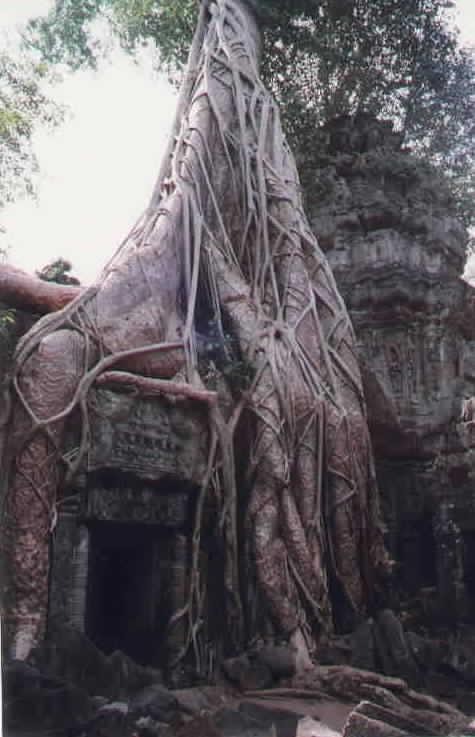 Costs: Hoteló $2.00 USD for a basic double Meals ó $1.00 each
We originally planned on going to Laos overland and return to Thailand for another month. The Laotian embassy was too much trouble, and Thailand wasnít our favorite. On the advice of other travelers, who waxed enthusiastically about Angkor, we flew here instead. We foolishly followed the advice of the State Department who should have been more sensible. Luckily, we left several weeks before the real trouble began.
We were not feeling well upon arrival in Phnom Penh (PP) and rested a few days before heading off to Siem Riep (SR). This is where the ancient city of Angkor is. Iím turning to Rob but Iíd like to add Angkor was the most stunning place I have seen. If things ever cool down --GO THERE!!
The trip to SR was uneventful, but once we made it there we became more aware of the dangers in this country. Riding to our hotel, we spotted .50 cal machine guns in some of the huts along the road and noted the gun toting population. Here we had a driver take us around (the 3 of us) on a scooter to the monuments (there are at least 100).
The monuments are truly spectacular... Each one is different, over 1000 yrs old, some Hindu, some Buddhist. Many were restored by the French, but a few, notably Ta Prohm, have been left as they were found. These show how the monuments were when the French found them, covered with vines and overgrown with Banyon and other massive trees.
The area is full of temples ranging from the gargantuan Angkor Wat to the delicate Banteay Srei. Near Angkor Wat is the walled city of Angkor Thom.
Inside is the Bayon temple, noted for its towers covered with over 100 huge serene faces (like the ones in Apocalypse Now) looking out at the four points of the compass. Each temple is elaborately carved with so much detail one can scarcely take it in. We spent a week exploring the temples and tending to each otherís various sicknesses.
Mel got really sick here with a fever of 104+ F. We did the sensible thing and went to the "hospital". Our first stop was a private clinic where she was "diagnosed" with malaria. This was mainly because everyone else there had it. They couldnít do much so we went to the supposed real hospital. Here we went into a dirty room with a halfódead cat and 20+ curious locals for company. Each one would take turns with a lab coat and tell us we needed to administer blood serum (yeah, right!!!). Finally a real Doc made it and he helped us use our medical kit to take care of the problem. As there was no running water in the hospital, I had to go out on the street to get ice to lower Melís fever. Once things stabilized we bailed out and returned to our room. Mel thought she was going to die. It turns out to have been one nasty bacterial infection of her gut. Thank God we brought antibiotics as there were probably no meds in the Hospital.
This is Mel and I am writing this 2.5 years after the fact. Thinking back to that incident (I really believed I was a goner) the one thing that stands out was the cat. The room full of locals, the fact that I was uncomfortable Ėhot and cold and very sick, spending the last few moments on earth with Rob-none of that stood out in my mind. The blasted cat took center stage. It has intrigued me ever since.
The return trip to PP was by the "fast boat". As if hurling along at high speeds wasnít exciting enough, we broke down halfway and were shot at by the locals. We made it back safely and moved to Bertís Bookstore. Bert is an expat American married to a local who keeps up with the many things travelers do and sometimes get killed for. His notes make interesting reading and we realized how stupid we were.
While visiting museums and mass gravesites (littered with bones and skulls) a frightening thought occurred. In Cambodia we probably dealt on a day-to-day basis with their killers.
We stayed with a family friend for a few days and really enjoyed the hospitality and local knowledge. Thanks again.
We left overland from PP toward Vietnam.
• Cambodia Photos •
• Home • HAWAII • SAMOA • Fiji • NEW ZEALAND • AUSTRALIA • AUSTRALIA Part 2 • AN OVERVIEW OF SOUTHEAST ASIA • Malaysia and Singapore • THE PHILIPPINES • Thailand • CAMBODIA • CHINA • India • Nepal • India Part 2 •
Copyright © 2002 by Robert and Melissa Gunter. All rights reserved.