• Home • Alaska To Mexico 2000 • Around the World Photos • World Travel Journals • 4x4 Vans • Contact Us •
SAMOA
By Rob and Melissa Gunter
April 1 to May 28, 1996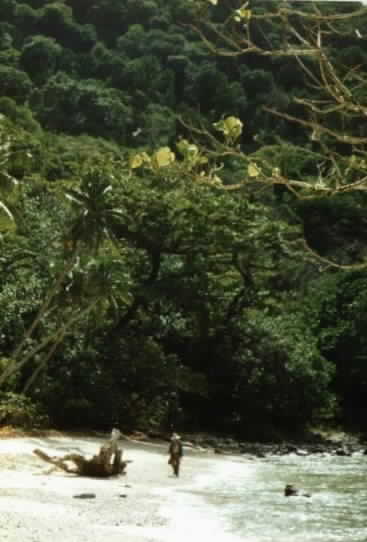 Talofa from SAMOA, according to Mel
We left Hawaii the evening of April 1st and arrived in Pago Pago, American Samoa about 10pm. This was quite an April Foolís Day for us! After clearing customs, we went out to find our host (pre-arranged by phone in Hawaii) and met Roy. Roy soon became known as the Feral American Ex-Patriot as he was from Oklahoma sometime in his hazy past but has since gone native with a wife and kids in each village. Well, we hopped into the back of his beat up pick-up and drove across the island, beautiful by moonlight, to our cabin. We stopped in the middle of nowhere-no lights, no sounds, no nothing- and he says, OK, here it is, just a little hike uphill. 45 muddy, straight uphill minutes later with no flashlight we arrived at our cabin. No lanterns about so we just fell onto our dirty army cots fully clothed. We probably would have got some decent sleep except Roy planted bamboo along the edge of the tin roof as it makes an awful racket. He does this because the Samoans hear it and think the place haunted so they stay off. It is very effective; I thought the place haunted too!!
Sunrise dawned a new and brilliant day for us. Imagine waking in a totally rustic cabin, alone, far from a village and walking out onto your balcony onto this scene. Spread far below and to both sides was a lush rain forest, interspersed with a variety of fruit trees and beautiful flowers that Roy sells. The rain forest rolls down the hill ending at a white sand beach with a deep blue ocean gently rolling in. Ahhhhh. The cabin had outdoor running water, well, at least a PVC pipe and crude knob. Note that if you shower outside, donít leave your soap, as the wild pigs will make a meal out of it. This was paradise, all for $10.00 a day. Rob and I spent time exploring, snorkeling and fishing.
After our cabin experience, we were ready for true wilderness. Again, Roy to the rescue! He took us by boat, well, a hull with motor, to a place far, far away down the coast. This time we were a dayís hike from the road, not 45 minutes. We also were in a tent under an overhang instead of a cabin and
A fresh water stream replaced our shower. Now, this place would have been true paradise except for the mosquitoes. Thousands and thousands of them, so fierce they bit in the heat of the day, while we were snorkeling 20 yards offshore. This is no joke!!
We stayed there 5 days, 5 hellish, hot, mosquito ridden days. We did see a baby shark and octopus while snorkeling and that was pretty neat. The last day Roy was due to pick us up early-8am or so and we were up and packed before dawn. 9am, 10am, noon, 2 pm, 3 pm-no Roy. We were upset, no mad, OK-really, really ticked and we got ugly fast. I canít repeat the things we said about Roy but they werenít nice. We decided, around 3:30 to hike out and about 4 pm (soaking wet from the high tide we had to go through) off in the distance comes the hull. Iíve never been so happy. Home-sweet-home, back at the cabin.
On the 11th we flew from Pago Pago to Apia, Western Samoa. No big news here, we saw Robert Louis Stevensonís grave, explored Apia and went on a good scuba dive. On the 16th we took a ferry to heaven, uh, Savaii. This is the second largest island in WS and it felt as if we had passed into another time. After a frightening bus ride, they put 30 plus people on a 16-seater bus. With bags of live pigs and chickens, we arrived. We stayed at a village run place that provided fales (fales are open air traditional huts), 3 meals a day, white sand beach and turquoise water 15 paces from our door. For all of you slaving away right now, Iím sorry to report but I LOVED this place. Sleep eat, walk on beach, snorkel, lie in sun, drink beer by the sea- man, we had it rough. The cherry on top of the cake was that all the other travelers there were great. The village even gave us all a traditional fia-fia night with a feast and music and dancing. Youíd have to pay me a mint to disclose this place Ďcause Iím going back someday and I pray it stays the same.
We returned to Apia for a few days to soak in more of the beauty the area offers. From there we went back to Pago Pago and by prior arrangement stayed with a wonderful man named Barry. Barry runs a B and B and in exchange for some maintenance and cooking we stayed there 11 nights no charge. This was a great time for us as we got to relax, read a lot and cook in a real kitchen. We also made a great friend.
Well, this was Samoa for me. Iíll see you in Fiji Love, Mel
April 1 - May 6 SAMOA!!! According to Rob
We flew to Samoa from Hawaii arriving 10pm local time Apr 1. We called the tourist bureau prior to departing and arranged for accommodations for the first night. At the airport we met Roy and his sons from one of his families. We were easily spotted as the only Pulangi (white people) with backpacks. He drove us to his cabin Samoan style (back of a pickup), and we hiked uphill through the brush in total darkness. It was one of those hikes where you have no idea where you are going, canít see a thing, and your guide keeps saying almost there. We were left at the cabin with no lights other than our flashlights and a vague indication of where the shower and other facilities were located.
The next morning we woke up to a spectacular view. From the front veranda of the cabin we looked down the mountain at a bay framed by tropical vegetation and a deepening blue sea. We were in a small private plantation within the National Park (LISA). The cabin was one room with a cold shower piped from a nearby stream with a covered deck. On both sides of the cabin was a stand of bamboo, which sounded like someone ripping the corrugated metal roof off the cabin whenever the wind blew.
The plantation grows several of the 18 varieties of banana grown in Samoa, Taro (root crop and staple of the pacific islanders with big elephant ear leaves (tastes like potato)), star fruit, lemons, limes, grapefruits, breadfruit, copra (coconuts), and countless varieties of tropical plants. The cabin was RUSTIC, but the surroundings interesting at the price of $10/night.
Once we collected ourselves, we hiked down to the road and caught one of the village busses into Pago Pago (Pago). Pago is located in one of the most picturesque harbors in the South Pacific. The harbor comes into the island quite a ways and is protected by mountains on either side, which climb vertically from the narrow patch of land framing the sea. The only blemishes on the harbor are the town of Pago and the tuna canneries across from town. Unlike reports I had received, the canneries have cleaned up their act somewhat. The legendary noxious smell is usually confined to the area just around the canneries. Of course all the familiar names were on the canneries and Charlie smiled down on us as we drove by.
At one time the canneries dumped waste into the harbor and killed the reef. Itís a bit cleaner today as they barge the waste out to sea and pump it overboard, however, the harbor still has a ways to go.
Some-one's Version of Paradise
Shortly after arrival we were eager to do some camping and live like Robinson Crusoe. Roy was accommodating and dropped us off at the bay next to one called Massacre Bay (bunch of French killed by Samoans) on the Natíl Park side. Sleeping in a rock overhang with our tent and mosquito net, there was a fresh water stream nearby for fresh water and refreshment. The ocean provided fish for lunch and dinner. The bay had a reef for snorkeling with lots of marine life. The overhang had been inhabited as evidenced by the charred ceiling and an old mortar and pestle overgrown with moss. As the sun set, we could see flying foxes (bats). Roy picked us up after 4 mosquito infested days.
****Cultural Alert****
Samoa is divided into American and Western Samoa. Tutuila, the main island of American Samoa, has few beaches. Its beauty lies in the steep mountains, forests and hidden bays with coral reefs. For white sand beaches you have to go to the Manuía group or Western Samoa.
American Samoa is a U.S. Territory, a fact that has had a profound impact on the populace. The government did a few things right when they gave the island territorial status. Private property is scarce on the island, at least as we know it. Land is owned by villages, which sort it by family then to individual family members in the old tradition. If a person wants to build a house they get space from their family and build it. If a Pulongi wants land for them or to develop a resort, they have to enter into a lease of long or short term.
Pulongi is an interesting term used to describe Caucasians. It literally means "from the clouds". This refers to the manner in which the islanders first encountered Europeans in sailing ships. They thought the sails were clouds that transported these visitors around. Our short stay revealed other interesting aspects. The U.S. presence and others influence some from Samoan culture.
Samoans form communal societies centered on the village. Their leaders or Matais are chosen based on birthright. A commoner can improve their status through merit and reach Matai status. Most houses in A. Samoa would be familiar to many Americans (at least from the outside). However, in front of the main house is a traditional fale (fall-ay) built from modern or local materials. The front fale is used to houseguests or family members who can arrive unannounced and expect to be housed and fed for the duration of their stay. Excesses are uncommon because the reverse always applies.
If a family is having hard times or there is a get-together the fale will be used. Fales are oblong shaped with a roof supported by pillars. To protect from wind and rain, there are blinds lowered between the posts holding up the roof.
The family is the center of Samoan life. This, in conjunction with a wage disparity between American and Western Samoa, has led to interesting consequences. Nearly everyone working in A.S. is actually a citizen of W.S. (a separate country). The wage in A.S. is about $2/hr and W.S. $2/day. The A. Samoans sign up for welfare and AFDC. Since they donít have to pay rent, there is plenty of food. Most income is disposable. Money is used to buy gas, imported items (beer, cans of corned beef), etc. A.S. families sponsor their W.S. relatives to work, exacting a cut of the proceeds. Everyone is happy.
Those fans of communal life beware, however. There are a few twists. One interesting is that many things are sold in single serving sizes. If you bought a lot, everyone would come by for a sample!
Many people think of the Samoans and Pacific islanders in general as dumb and lazy. It is more likely they are efficient in their expenditures. Why should they expend energy? For the most part they have shelter and plenty to eat. Uncle Scam pumps in plenty of money. In 1991 and 1992 hurricanes swept through Samoa (the Ď92 storm lasted 4 days). Just like in the rest of the States, FEMA arrived on the scene from the Government and ready to help. After the Ď91 storm the locals got wise to the ways of FEMA. One FEMA official was quoted as saying that the Samoans were the best population at exploitation of any he had ever encountered. They have had plenty of practice over the years. Samoa eats up more funding per capita than any place under U.S. sovereignty.
There was one episode that we heard of where after the Ď92 storm, Samoans had removed all possessions from their houses and started tearing what remained of their houses down. When FEMA arrived they tearfully explained the damage to the officials. What they didnít count on was the aerial photos taken by the Coast Guard that told a different story.
Another oddity was the Fafafines. Fafafines are transvestites created by their families!! If a family has too many boys they will appoint one of them to be raised as a girl. This allows for help with work traditionally performed by women. When they grow up they do what they wish but usually end up gay or bisexual and continue to dress as women. It is not unusual to see very large, muscular men dressed completely in womenís clothing with makeup and their hair tied back in a bun walking down the street or riding the bus. Needless to say, there is no sexual taboo relating to homosexuality in Samoa.
********Culture alert over*******
Western Samoa
We spent two weeks in Western Samoa, which is spectacular. Think of what Hawaii must have been like 100 years ago. WS has lots of beaches and swaying palm trees over white sand. The difference between the two Samoas is evident on arrival. Even in the capital city of Apia, houses are made in the traditional manner using thatched palm leaves and posts. Blinds are made for the fales by tying braided palm fronds together like a Venetian blind. On fair days the blinds are tied up leaving an open-air cabana without walls.
Unlike American Samoa, each yard has crops growing with chickens and pigs roaming the yard. Chickens start their wake-up calls around 5 am. At low tide people walk the top of the reef gathering fish and other marine life for food. The daily struggle is much more evident here. Another thing that was apparent was that people seemed happier here. People in AS say the same and usually retire over here where the living is milder.
Apia
In Apia on the island of Upulu we found the trial of world backpackers/backpackers. WS is in the usual route of Australia-New Zealand-Fiji-W. Samoa-Hawaii-LA-Europe trail. Many bypass Samoa, but a few make the stop. We stayed in the Outrigger Hotel;, which was run by a former Danish banker (Klaus) who decided upon arrival that he could improve upon the facilities he found and have a great time as well. The Hotel occupies the old U.S. Consulate and he has proven himself correct. With each night stay you get a tropical breakfast of toast and jam, papaya, banana, tea or coffee. The cost is $12W5 ($1 WS=$O.4 Us) for a bunk, $60W5 for a double with private shower. Klaus runs tours of island highlights when enough people want one for about $l0pp.
Apia has an excellent pizza place and a few nightclubs. Each club has a fia-fia night (party) once a week that gives an indication of where the crowds are. Fia-fia night ranges from a traditional dance and music show at Aggie Greys to drag shows with Fafafines. Aggieís is one of the landmark establishments on the island. The Hotels namesake was reported to be one of James Michenerís characters in Tales of the South Pacific. During WWII, Aggie catered to GIís stationed here for training before heading off to battle. She provided hot dogs, beer, and more ancient forms of entertainment. On fia-fia night she would dance for her guests. She is gone now but her daughter performs. Fia-fia night at Aggie Greys includes the show and a feast of local delicacies for about $50WS.
Klaus took us on a tour of a cave pool where you could snorkel from one cave to another and sliding rocks, and numerous waterfalls. From here we decided to go to Savaii.
Savai'i
Savaii is the largest island of WS and looks a lot like the big island of Hawaii. There are lava flows and volcanic cones but the volcano is not active. It is a definite departure from even Upulu! We took a ferry over and caught a bus on arrival to our destination, which was unknown until we got there. The bus stopped and they motioned for us to get off in the town of ****** at the ~ Beach Fales (**** edited by Mel). Paradise at $35WS per person/day.
The Beach fales are a series of freestanding fales with mosquito nets for sleeping under and mattresses. The floor was provided by a raised platform about 2 feet above the ground. The Fales were of the traditional variety. There was a large fale for socializing, and a covered eating area, kitchen, outdoor shower, and toilet facilities. Right next door was a western style place which provided essentially the same thing with a western bar and food for $99USD/night. Go figure. Anyway, our days consisted of getting up with the breakfast bell, lazing around till lunch, swimming, snorkeling or walking in the afternoon until dinner, and watching the stars with a brilliant view of the milky-way and Southern Cross; repeat.
The town ran a small store were we bought Coca Cola (buy stock) and Vailima beer (brewed under German management) and not much else. On occasion the crew of backpackers (mostly from Klausí) went to the bar next door. We stayed just over a week. This was our favorite place in the South Pacific.
After leaving Savaii we spent another night at the Outrigger and flew back to AS. There we stayed at Barryís B&B, trading carpentry skills for a place to stay. This was the off-season and we took it pretty easy. Mel did the cooking and Barry bought the rum. We tried to hitch aboard a yacht but we missed the season by a couple of months. Yachts leave Tahiti at the end of Hurricane Season (during this time) and slowly make their way along to Australia or NZ stopping in Samoa along the way. We flew to Fiji.
Your man in the Pacific, Rob
• Home • HAWAII • SAMOA • Fiji • NEW ZEALAND • AUSTRALIA • AUSTRALIA Part 2 • AN OVERVIEW OF SOUTHEAST ASIA • Malaysia and Singapore • THE PHILIPPINES • Thailand • CAMBODIA • CHINA • India • Nepal • India Part 2 •

Copyright © 2002 by Robert and Melissa Gunter. All rights reserved.