• Home • Alaska To Mexico 2000 • Around the World Photos • World Travel Journals • 4x4 Vans • Contact Us •
AUSTRALIA (OZ) - PART 2
By Rob and Melissa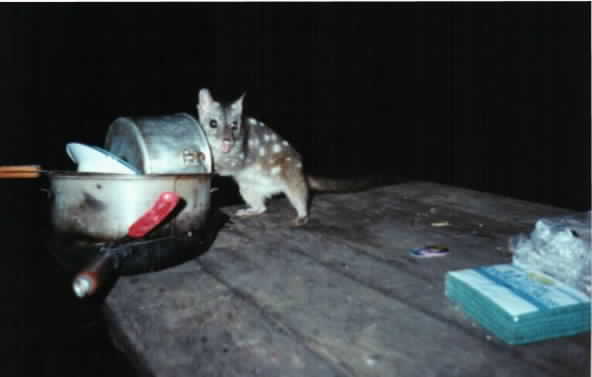 26 November-February 9, 1997
This second part of our trip through OZ takes us from Perth around the SW corner along the coast to Esperance. From there we went straight to Adelaide across the Nullarbor Plain. After Christmas (AKA Chrissie in OZ lingo) and NYE, we saw the sights around Adelaide and the Barossa Valley, and then were off towards Melbourne along the coast along the Great Ocean Road. We spent some time in Melbourne and the environs visiting friends and seeing the sights before resuming our run to Sydney along the coast and the Snowy River Mts. These areas are heavily populated relative to the North and middle of OZ and we had the opportunity to meet lots of locals and get a feel for the country from their perspective.
As usual, I will put all the Health Physics related stuff at the end.
Perth
Perth is a modern city with lots of skyscrapers and people. For Ozzies it seems to be at the end of the world; like Hawaii is for most Americans. You know you can get there, but it seems most people never do. We stayed in Freemantle (Short time home to the Americaís Cup), a trendy town/suburb just outside of Perth proper.
Around Perth, Mel and I visited the local wine regions and the usual host of museums. The wine was great, and whetted our appetite for the Margaret River area soon to come. Other than that, it was like any other big city, loud, too many people, not enough parking, hard to navigate, etc. We hit the road again after catching our wind and picking up a few riders. Anna and Kate, two Ozzies, joined us.
The four of us headed south, and it didnít take long to find a winery. They start at the outskirts of Perth and build up to the Margaret River area before dropping off down around the cape. We dutifully fulfilled our obligations to you, our readers, by stopping for a taste regularly. The purchases we made were usually "clean skins" or bottles on special. Clean skins are bottles of wine made after a production run has been completed. The excess is bottled w/o a label and sold at a discount.
In keeping with our official policy of cost consciousness, we would spend the day at wineries or at the beach and retreat inland to a park for a free nightís camping. The coast in this area is rugged and beautiful Huge rocks, kelp beds, clear water, and some of the best surfing sites in OZ abound. Of course, my judgment may have been impaired.
Margaret River
When we finally made it to Margaret River we were just getting our stride straightened out. Fortunately it didnít last long. We found a campground near the beach and headed into town to rent bikes for winery hopping. The Margaret River region is exactly what you expect from premier wine country.
Rolling hills, fields of grapes surrounded by lush forests. Beautiful is the appropriate term. The bikes came in handy as we made the rounds. When we got tired of good wine (cough, cough) we went to the local microbrewery for respite. Good living.
It has been said that too much of a good thing will lead to trouble. Unfortunately, we were spending money at too high a rate to find our limit and had to move on.
SW Cape
Down the coast and around the corner there is a lot to see and do. We managed one beautiful morning in Bunbury swimming with the dolphins before heading inland to see some of the magnificent forests of the region. This area of the world is somewhat like the Pacific Northwest. Lots of rain and huge trees. The local Karri, Tingle, and Jarra trees grow to huge proportions, some big enough to drive a car through. We had the chance to climb up into one of the big ones that was used as a fire lookout. The observation platform is reached by climbing up spikes bolted into the tree like a spiral staircase. 200 feet to the top, wear good shoes.
Like most places in the world, there is not much of the original forest left due to logging. The parts that remain are being cut a breakneck speed to avoid pending legislation and turning public opinion. The logging companies are working round the clock cutting the trees. Of course, this rapid cutting is creating an oversupply of this beautiful, up to 10 ft in diameter, hardwood. The price is so low that they are cutting these majestic logs into wood chips!!!!! I donít fault the Ozzies, as we in the States would do the same. I guess the tactics of the greenies around the world has demonstrated that you better cut while you can. Wise management of the harvest is not an option.
Anyway, we made it around to the Southern Ocean. The south coast here is beautiful. Huge rocks divide white sandy beaches. The ocean has a wild edge to it that becomes obvious when you are in its presence. Like the south coast of the Big Island of Hawaii, signs warn of freak waves and give body counts at the popular spots. Freak waves are just big waves that come in from time to time (no warning) with surges that can reach up 30 feet (or more) pulling you off your "safe" spot on the rocks. Many of the popular fishing areas have rings bolted onto the rocks so you can hook a harness up for fishing. The population along the coast is clustered in towns and cities, so it is not unusual to have the beach to you for miles.
The coast is home to lots of whales, dolphins, seals, and, of course, white pointer (great white) sharks. A few surfers get taken from time to time around here and some beaches have shark nets. One woman was taken by sharks while swimming in a seal colony (seals are the favorite food of white pointers). Unfortunately her family had to watch as the shark zeroed in on the slowest seal.
We had the pleasure of spending a few days at the farm of Annaís aunt and uncle. David and Louise raise sheep, wheat, and oats on their farm in Mt. Barker, WA. Louise is an artist too. It was a great few days learning about farming and farmhouse cooking and Davidís fondness for drinkers of red wine.
For cooking they used a slow burning wood stove to cook with and I found it fascinating. Apparently there are a lot of people who still use these stoves. Top quality slow burning wood stoves are still manufactured in France (where else). The wood stove gave the food a wonderful flavor. Apparently the French slow burners are the best. The stove surprisingly didnít really heat the kitchen that much.
From Davidís and Louiseís, we drove over to Esperance, the last major town before the Nullarbor Plain. Here we relaxed amid beautiful scenery and stocked up for the trip across to Adelaide (about 2500 kms).
The Nullabor to Adelaide
The dreaded Nullarbor (null-no, arbor-trees) separates WA from the rest of OZ and is the reason most people donít make it out there (along with very high internal airfare. Buy your tickets outside of OZ). The scenery consists of low scrub and lots of road kill. Jenny (our friend we met in Fiji) rode a bike across the Nullarbor and amused herself by keeping score. As you enter, you pass the famous Roo-Wombat-Camel crossing sign with no discernible distance. I guess it would be silly to put "next 2,000 kms" below it. We did a lot of driving and spent one night out in the desert. Wouldnít you know it though, we got rained on! We drove on the next day and stayed the night at a big surfing beach camped out among huge dunes. From here, it was on to Adelaide where we bid Anna good-bye.
Adelaide was a good break and we stayed at a backpackers in town which had a big Christmas party and dinner. Christmas day we made the local news swilling Champagne and eating strawberry crepes for "brekkie".
Barossa Valley.
The Barossa Valley or region is kind of the blue collar version of a wine region. Prices are lower and the scenery a bit regular. It kind of looks like someone suddenly decided to grow grapes instead of sheep one day. Apparently, the soil here and the climate are just right for growing excellent grapes for red wine.
Germans settled the area in the late 1800ís and they didnít waste any time planting grapes. The region is dotted with small towns where you can afford a place to stay. We stayed in a campground and rented bikes for our tasting and buying expeditions.
Wineries in OZ have an unusual price structure. You get the best price for a name brand wine at the liquor store. Wineries charge a premium price due to price agreements with distributors. There are ways of getting value though. Most of the small wineries sell only at the cellar door (no distributor agreement). The owners make the wines and some are even made in experimental batches by the vintners of the big name estates. These wines can be excellent, often better than the big name wines created for the mass palate and cost $3.00-s 10.00 a bottle less.
We made another discovery that may interest you wine snobs. As you may know, the original European grapes were nearly destroyed by a disease imported to Europe from America by early settlers. To avoid total catastrophe in Europe, American vine rootstocks are used with grafts of the European varieties. Some think this has detrimentally affected the taste of wine. Well, lo and behold, the grapes are of the pure European varieties imported to OZ before the blight. I leave it as an exercise for the students to determine for themselves the difference in quality.
We found our favorite to be the Cabernet Sauvignon (Cab Say in OZ lingo) and Shiraz singly and in blends. Most of the places sell wine via mail order, so if you are nice weíll tell you more.
Melbourne and Environs
After this, Mel and I (alone again) made our way to Melbourne via a few National Parks and The Great Ocean Road. The parks were great and included tiny Mt. Eccles and The Grampians.
The Grampians National Park encompasses the Grampians Mt. Range, an arid expanse with a few streams crossing it. Apparently, there was a sizable Aboriginal population. A cultural center is near the park office with interesting historical displays. We decided to rough it a bit and did an overnight hike. The hike was made rougher by the fact that we had to carry enough water for 2 days hard hiking over rough terrain with little or no shade. We were rewarded on the hike with spectacular views and a few run-ins with brown snakes (deadly) on the trail.
We approached Melbourne on the Great Ocean road. Built as a project for returned servicemen, it passes the majestic scenery of the shipwreck coast. Various parts of the coast are named for the numerous shipwrecks and natural features along the way. Notably Loch Ard Gorge, and the 12 Apostles. The sea pounds this area leaving unusual natural features and dangerous reefs carved out of the coastal sandstone.
Melbourne was just another big city, so we did the usual big city things. Unfortunately it was OZ open tennis time so the place was busy and very HOT. After a few days here we checked out the surrounding countryside and stayed on a farm of another friend. Melís birthday was approaching so we made our way to Daylesford, Spa capital of OZ.
Back To Sydney
Our time in Australia was running out. We had hoped to go to Tasmania from Melbourne, but it was too expensive and the passenger ferry was completely booked for the month of January. That, combined with the similarity to New Zealand, made us give it a miss this time. We decided to see a few more sights and head out of Australia. Our last leg was from Melbourne to Sydney via the coast.
We were making good time and anxious about leaving when we had our near death experience. While driving down a mountain in the Snowy River Natíl Park, we lost our brakes. Mel skillfully navigated the car towards an embankment as I put the transmission into park. The car did a 180 and stopped. We pushed it over to the side of the road and camped the night. The next day we limped out of the mountains to a brake place and had the fluid changed. Old fluid vaporized in the brake cylinder. No brakes. We decided to head for Sydney direct.
Our last adventure in OZ was our arrival in Sydney and the unloading of Matilda and a continentís worth of junk onto someone else (at a profit hopefully). Our original plan was to completely circle OZ around the coast and fly out of Darwin to Indonesia. The only problem was that Darwin was VERY far away, and the season was wrong for selling a car there. We ended up in the Dungeon of the Kings Cross Car market.
Backpackers Car Market
The car market is in the bottom level of an underground parking garage. Dimly lit by scattered fluorescent lamps and dingy from leaked car fluids. The routine is as follows. You set your price at what you need and hope for the best. Every morning you arrive at 9am and sit at your table until your buyer shows up. It could take 1 hr or 2 weeks. Once you have sold your car, you are obliged to buy a case of beer for all those who remain behind. We strategically placed ourselves near the elevator to be sure to get a free beer with each car sale.
When your buyer randomly arrives, your car is sold. Most of the time they donít even test-drive another car (even though there may be 20 others down there). Price rarely matters. People spend their budget. If your car is at their budget, they buy it. Our buyer arrived on day 3 and paid on day 4. Paid 1600; sold for 2200 AUD.
Oz was great for us. A place we will definitely return to. Next time we will have a 4wd and a small aluminum boat. For the first time 2wd is good, but once you get a taste you want more. OZ is a place to get out into the country. The outback is rough and can be unforgiving, but for us it is what OZ is all about. Exercise a little common sense and you wonít have any trouble. A magical place with great people. The food is recognizable, you can drink the water, and there are so many stars at night that when the moon is full you can hardly sleep from all the light.
If anyone is planning a short trip (1 month), we would recommend you go to Darwin rent a car and see the sights between there and Uluru (Ayers Rock). These include Kakadu National Park, Katherine Gorge, the middle of nowhere, the MacDonald ranges near Alice Springs. Fly out of Alice Springs. Sydney is great, but really just another nice city. Go outback for the real Australia. Of course, we will have to return for the Great Barrier Reef. We recommend 1 guide book: The Rough Guide to Australia." "Lonely Planet" is a poor second choice.
Costs:
We stayed 5.5 months and drove 22,000 km. We did the whole thing on $80 USD per day. Gas-Food-Lodging-Phone calls-scuba diving- wine snobbing-etc.
Yours, Rob and Mel Gunter
HP ALERT Potentially Boring material approaching.
In Perth we had the opportunity to meet a few HPís at the Western Australia (WA) Dept. of Health, and Mike Malaxos, an HP consultant. Radiation Protection in OZ is performed on a nationwide level, but there is also something like "agreement States" such as WA, who perform all the oversight functions within their state. The Dept. of Health is responsible for regulating a huge variety of sources and uses of radioactive material and radiation producing machines. WA has a HUGE mining industry including monazite and uranium mining plus a myriad of industrial sources, medical facilities, etc. They also maintain a radiation calibration facility. For dosimetry, WA uses film with attenuation filters. There is some thought about switching to TLD. The State is huge and the staff does a lot of traveling.
Of course if you have regulators, there will always be a need for consultants. We met Mike Malaxos, a HP who runs his company just outside of Perth. Mikesí business provides a host of services, but I was most interested in his repackaging of sealed sources and design improvements to industrial source containers. His lab had a host of special tools and hot cells rigged with suction devices and locally manufactured source-handling gadgets. Like most every town in OZ, Mike runs his business in a "nuclear free zone". He has pointed out to the local govt. that this isnít exactly true, but I guess until he puts in a reactor, they couldnít be bothered with such details.
While in Melbourne, Rob visited the National Radiation Laboratory. The NRL provides HP services and regulations Nationwide and handles all the non-agreement states. As you can imagine, they also regulate a wide variety of uses.
For external dosimetry, they use a CaSO4 dosimeter for beta-gamma and Cr-39 for neutrons. Their system interested me because it was different than what I had seen elsewhere. The dosimeter has a strong energy dependence compensated by filters. The dosimeter material is matrixed in a plastic card. The card is preheated before reading and 2/3 of the card is read for dose (the rest in reserve). To wrap the cards for shipment and assignment, they have developed a machine that prints labels and wraps the label around the card. The package is sent to the user for insertion in the holder. Users purchase the holders and maintain their own inventories. The cards have the usual machine-readable bar code system. The folks here liked their dosimeters (Teledyne) fade characteristics.
• Australia Photos •
• Home • HAWAII • SAMOA • Fiji • NEW ZEALAND • AUSTRALIA • AUSTRALIA Part 2 • AN OVERVIEW OF SOUTHEAST ASIA • Malaysia and Singapore • THE PHILIPPINES • Thailand • CAMBODIA • CHINA • India • Nepal • India Part 2 •
Copyright © 2002 by Robert and Melissa Gunter. All rights reserved.