• Home • Alaska To Mexico 2000 • Around the World Photos • World Travel Journals • 4x4 Vans • Contact Us •
Fiji
May 6 - May 29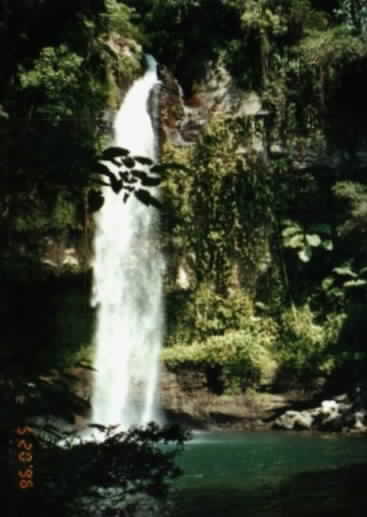 FIJI according to Mel
On May 6th at 11:30 pm we arrived in Nadi, Fiji and had exactly 30 minutes of May 7th as we crossed the dateline. Losing a whole 23 plus hours should have been a premonition but it wasnít. Whereas the Hawaiians are calm, the Samoans are laid back, the Fijians are purely comatose. They call it "Fiji Time" and I call it the Twilight Zone. To say our experience in Fiji was different I simply mean it was weird, frustrating, unusual, strange and bizarre.
Our first stop was Waya Island, a backpacker style all-inclusive place. All-inclusive here meant a closet for a room, okay food and a beautiful beach that was slightly marred by the fact that raw sewage was dumped right into the water. This water was also where we were supposed to swim and snorkel. Since there was nothing to do, well, we did nothing. We did, however, meet a most interesting person named Jenny. "Jen" for short. We formed a bond quickly and actually stayed with her right up to May 29th when we flew to New Zealand.
A quick story about Jen. She is British, through and through, and left home after receiving a degree in nursing to volunteer in a clinic in Calcutta, India. About 10 months into her experience, she contracted an infection and, as a health care professional, decided to ignore it. All went from bad to worse quickly and she ended up in a 3-day coma in Calcutta. After coming around and a short recuperation period she bought a second hand bicycle and is cycling around the world. We met Jen 18,000 miles into her journey. She is refreshingly different.
The rest of our time was spent traveling from place to place by bus or ferry. Fiji can be described as a bunch of small Fijian villages separated by Indian towns with lush country or sandy beaches separating them. Each town is a carbon copy of the next and ditto on the villages. Our experiences were something else altogether. Thank goodness for the wonderful travelers we met along the way, they really kept our sanity. From people proposing marriage to waiting hours for a bus that never comes to being told the wrong information (as no Fijian will say "I donít know," they just make something up), we about lost it.
Two bright stars- the island of Taveuni and the capital city, Suva. Taveuni was a beautiful place where we did the scuba dive of our life, ate the best chocolate cake, and had the absolute most wonderful campsite. Suva was a really happening city with lots to see and do. We even saw a Hindi film there so Jen could reminisce about India.
Well, we love you Jenny and we really miss those Skip-Bo cards.
Love,
Mel
May 6 - May 29 Fiji ... According to Rob.
Fiji is the main South Pacific backpackerís destination as it is one of the affordable places with a highly developed tourist trade, despite the recent military coup. I didnít find it much cheaper than WS, but from what I hear it is much cheaper than French Polynesia. What it really provides is a lot of all-inclusive resorts on islands surrounded by the most gorgeous coral reefs in the pacific. If you come, get to one of these islands at your earliest convenience. Skip Nadi.
The main attraction here is the coral reefs. Our experience with the reefs was excellent. On arrival, we booked a trip to the Yasewa Islands NW of Nadi. Apparently the Blue Lagoon was filmed on the adjacent island. We stayed about 4 days and started our trip around Fiji to the island of Taveuni via bus - ferry - bus - bus - bus - ferry. The ferry ride was from Rakiraki-Bua on Veti Levu and Buca Bay to Taveuni. The bus rides across Veti Levu were magnificent from Bua-Labasa-Savusavu-Buca Bay. We camped at Taveuni on the beach. Taveuni was similar to Savaii except there were fewer people. Of all the places in Fiji, we rank Beverlyís Campground as our favorite.
As you can imagine, getting there is all the fun. We arrived back at the town of Lautoka from Wayesewa and spent the night at the Hotel Lautoka, stopping at the local market to pick up fruit for breakfast, and spirits for our disposition. After a night of playing cards, we caught a bus to Rakiraki to catch the ferry to Bua. The ferry wouldnít leave again until the next morning at 6am. However, it did arrive that night. We asked if we could sleep onboard and the Captain gave the OK. We slept on benches in one of the main cabin areas. The next morning we sailed for about 5 hrs to Bua, where we caught a bus to Labasa. We picked Labasa because it was the furthest north city of any size in Fiji Unfortunately there was nothing to see there.
The next day we beat a hasty retreat from the crazy hotel we were staying in. Our travel partner Jenny had cut her hair quite short and some of the locals wanted to see for themselves if she was indeed a woman. Nothing sinister, but definitely strange. Anyway we took the first bus to Savusavu and hung out there all day, checking out the diving opportunities. The bus ride from Labasa was great as the busses were open on the sides and the countryside was amazing. The last stands of rain forest in Fiji lie along this road in valleys too treacherous to be logged. It was raining in Savusavu the next day so we decided to press on to Taveuni catching the afternoon bus to Buca Bay. This ride was also spectacular as we drove along the coast through copra plantations and looked out over the top of the reef with islands of plant life mushrooming up and being eaten from underneath by the sea.
Taveuni
Everything is timed based on other modes of transportation, so when we arrived at Buca Bay we had to rush to the ferry to Taveuni. Upon arrival we looked at a place offered by a local village and decided that sharing a room with a Fijian family separated by a hung curtain was too rustic for us. We caught a taxi to a local western style hotel and sat at the bar thinking of what to do. A taxi to where we wanted to go was $40 and it was too late for the bus. We called one place and they said they would send a vehicle to pick us up. 2 hours later they arrived. On the way back we stopped at 3-4 villages as the men onboard took care of their errands. They dropped us off and we settled into a rather dumpy place (Lisaís Campground). The next morning our proprietor tried to get us to pay $40 for the ride, so after a lot of arguing we left after paying for the night. For the money, we could have stayed at the hotel we were drinking at and caught the bus the next day. Anyway, we walked about a mile to Beverlyís campground.
Here we indulged ourselves in diving the great white wall, eating at restaurants run by American expats, and eating the best chocolate cake/shot of homemade kahlua/espresso coffee I ever had. My heart was racing after the treat there was so much sugar and caffeine. The camp had a rough kitchen, complete with rats, and an old shower with flush toilet. Excursions included trips to waterfalls and back to the Coconut Grove Cafe for dinner/sunset over the Somosomo straight.
Expats provide the only comfort you are likely to find here, as the Fijians are a rough bunch. They donít go out of the way to provide service, and rarely give a straight answer. This mainly stems from their inability to say they donít know. Instead, they just tell you what they think you would like to hear. They are much like the Samoans. This is annoying at times, but with understanding it becomes tolerable. Understanding means you donít rely on them for anything you really want.
The campground was good because we were with a bunch of other travelers and left to fend for ourselves.
A travel partner (Jenny) gave us some good advice for traveling/backpacking. Donít bring a towel; use a sarong for drying off. The towel will not dry in this climate and takes up a lot of room.
Diving The Great White Wall
In Fiji the thing to do is scuba dive. We dove one of the worldís supposed best dive sights, the great white wall. The wall is in the Somosomo Straight, which has an incredible current. You must do the dive at the slack tide during daylight. If the tide is right and so is the time and weather, you dive 30 ft to the top of the reef. Enter a cave were you proceed to 100 ft and emerge alongside the wall. The wall extends down to 500 + feet and can cause you to lose perspective. As you exit you must take care to stop descending. The wall is covered completely with a soft white coral. It is such a sight that even when warned, divers frequently admire the beauty and continue to descend, sometimes dangerously deep for non-decompression diving. As you exit the current sweeps you along the wall to the exit cave where you ascend to the top of the reef. About 10 min at 100 ft. Incredible.
Back to Suva
In Fiji, transport is usually more difficult than it has to be. Leaving Taveuni was no exception. We were out of cash and travelers checks, but we had a credit card and there was a bank. The only problem was that unlike all the restaurants and other places run by expats on the island, the bank cannot handle credit cards. Neither does the ferry nor do the planes. Thatís Fiji for you. Luckily, Jenny had a travellers check. Lesson learned... Donít leave home without Ďem. The ferry from Taveuni to Suva took 17 hrs, so we crashed in the first class section ($4O FJD).
Suva was nice and we did our shopping here. The prices were the best we saw in Fiji. We stayed a couple of days and caught a bus along the south coast towards Nadi and our flight out. We stopped along the way in Sigatoka. Here we found a surfers hangout near a beach with huge sand dunes. Inside the dunes were relics that were being exposed by the wind. I found a few sights with bones and shards of pottery with markings on them. A sign stated this was an archaeological sight and please refrain from collecting pieces. I complied. We spent a couple of nights among the surfers and headed back to our favorite Hotel Lautoka for a short nightís sleep. We partied that night, as it was the last night that Jenny was with us and caught a taxi to the airport at 4:30 to catch the only flight to New Zealand. At large expense ($500 FJD), we flew to Auckland, New Zealand.
Regarding airline flights, we learned a valuable lesson. We would have saved about $300-400USD by purchasing a ticket from the Mainland USA - Hawaii - Samoa - Fiji - New Zealand - Australia. We were hoping for some breaks along the way, which would have cut the cost considerably. That didnít pan out. The timing for catching a yacht was off in Samoa, and the military transport I was going to take from Dallas to Hawaii was not reliable for my timetable as was a military flight from Hawaii to Samoa. The plane that I was going to fly on was grounded the day we were to leave.
Cíest la vie. We are looking forward to reaching Thailand to get cheap tickets. --Rob
• Home • HAWAII • SAMOA • Fiji • NEW ZEALAND • AUSTRALIA • AUSTRALIA Part 2 • AN OVERVIEW OF SOUTHEAST ASIA • Malaysia and Singapore • THE PHILIPPINES • Thailand • CAMBODIA • CHINA • India • Nepal • India Part 2 •
Copyright © 2002 by Robert and Melissa Gunter. All rights reserved.