NEW ZEALAND
By Rob and Melissa Gunter
May 29, 1996 to August 25, 1996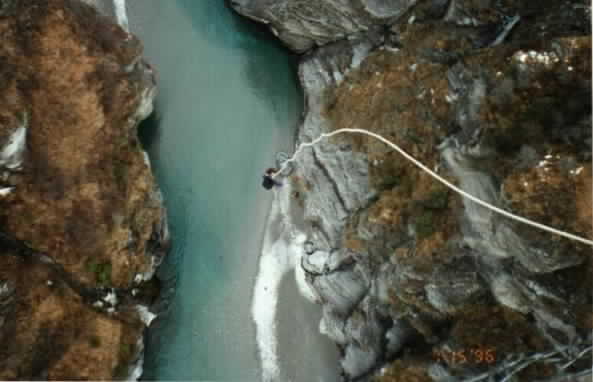 New Zealand (as told by Mel)
Kia Oro Everyone!!
NZ was definitely the adventure portion of our trip so far. While we visited, spring turned to a bitter cold winter and traveling from the Northern tip of the North Island down to the southern tip of the South Island we encountered all kinds of weather.
Shortly after arriving, we purchased Bessie the Black Beauty, a 1980 Ford Cortina Station Wagon. We had to drive on the left side. We were lucky as Bessie, far from being beautiful, ran like a top.
Early on, with the mild weather, we camped out in our car. As the weather turned we spent more time indoors and became intimate with NZís hostels.
Early June we visited the northern tip of the North Island. We kept busy fishing, collecting clams, exploring the beaches and forests and going on day hikes. On the very tip, at Cape Reinga, we watched the Pacific Ocean and Tasman Sea crash into one another
Onto the mid-section, gigantic Lake Taupo. This area is still (volcanic) active and produces thermal baths, steaming fissures and boiling mud. While we visited, Mount Rupahoe blew her top sending ash and steam spewing forth.
In early July we went by ferry to the South Island. Our 1st day there I did a tandem skydive, one of my lifelong dreams. After an initial 1,000-foot freefall at lightening speed we parachuted another 8,000 feet. This was incredible and highly recommended!
We headed toward the Southern Alps for some snow skiing next. As it was early, the slopes were a bit icy but we had a good time. The views were breathtaking and we further enjoyed the mountains on foot and by car.
Mid-July we visited Queenstown, the adrenaline capital of the world. To get the most of our experience, Rob and I took the big plunge, the worldís 2nd highest bungee jump!! Iím sure Rob is going into detail on it but it was so incredible, Iíll bore you twice.
For this terrifying feat you 4WD out to a spot in Skipperís Canyon on roads that should have been closed long ago. The jump takes place off a pipeline bridge 340 feet (that is 34 stories) over the river. One by one, each jumper willingly gets strapped onto the bungee cord and hobbles out to a small platform. Now, picture this, nothing is holding you on, you are standing on a platform with no rails, no walls; only a cord wrapped around your ankles that you canít feel because of the fear. The maniacs running the show chant, "5, 4, 3, 2,1, BUNJY!" at which point you are supposed to gracefully swan dive into oblivion. I just kind of fell forward as every nerve and muscle in my body was screaming NO. I must have screamed the whole way down, and back up to 270 feet, and back down to 120 feet etc., etc. as my throat hurt for 3 days after. I LOVED it and would have immediately gone again had it been free. After a month of reliving the feeling every time I went to tie my shoes, had a dream or nodded yes, Iím not so sure now. I donít want to ruin Robís tale but I have to say he sounded just like Homer Simpson, "Woo-Hoo."
Onto the wonderful West Coast.
Beautiful beaches leading into rainforest that rise into the Alps, complete with 2 glaciers dropping down into the forest. We enjoyed this area and went on several hikes to explore. We even joined a guided hike up the glacier. For this we had to wear cramp-ons and used ropes and ladders to ascend/descend the steep glacier wall.
NZ is sparse on the wildlife (except for the 60 million sheep and 60 million opossums) but we did see seals, penguins, and sea lions along the coastline of the South Island. We got within 10-15 feet of all of these animals in safe, inconspicuous places. The penguins are my favorite as they waddled around and preened each other.
While visiting Christchurch, we stayed with a couple that used to live in Knoxville. This was a treat for us to stay in a real home and eat American food. Thanks again, Glen and Laura.
We returned by ferry to the North Island and had one last adrenaline activity before selling Bessie and heading to Australia. The last thing was called "black water rafting" and consists of donning full wetsuit gear to crawl, slither, float and climb down a river that cuts through a very dark cave. The highlight was the glowworm area- with our lights off we saw thousands of iridescent fly larvae lighting up the ceiling like stars at night.
See you Down Under Mate!
New Zealand (according to Rob)
First things first... $1.00 NZ = $0.70 USD
We arrived in Auckland after a hectic flight from Fiji and made our way to the Central City Backpackers. A facility designed to cater to backpackers and budget travelers at 6 stories tall with over 300 beds and a bar on top. The inside was an example of what happens during an information explosion. Every inch of wall space was covered with brilliantly colored posters and brochures telling you about all the ways Kiwis (NZlanders) had dreamed up to part you from your money and senses. This was our first taste of NZ and a most prophetic experience.
As Mel said, we bought old Bessie and headed north for the last of the good weather. We figured that it would be about the same cost to buy a car as it would be to get bus tickets for three months and it allowed us to travel at our own pace.
The Northland was great! Beautiful white sand beaches stretching as far as the eye could see. The color of the water had that Pacific look, though this time of year it was a bit colder than Fiji. As we traveled up, we went by the Kauri museum near Dargaville that had a great display about Kauri trees and the logging methods used to cut them. Special methods are needed because the trees can grow to a circumference of over 17 meters!
After a few days relaxing on the coast we headed up to 90-mile beach (closer to 90 k). Here we dug clams for dinner and breakfast and relaxed some more. From there it was up to Cape Reinga where we camped on the beach and did some fishing. I caught my NZ fish (sees like I always catch one type of fish in each country), the kahawai. It looks something like a cobia. We circled the cape and headed down the eastern shore to the Bay of Islands. The water here is just beautiful. The scenery and weather are like Maine meets Destin, Florida.
The thing to do here is swim with dolphins (flipper type), dive, and enjoy the beautiful scenery. We tried to set up a dive to the sunken Rainbow Warrior, but didnít get enough people together. Next, we went back to Auckland and then down to the South Island via the ferry at Wellington. We had to hurry to take the ferry before the school holidays started and the discounted (50%) tickets were sold. Unfortunately we crossed (both times) at night and missed the spectacular scenery on the entrance to the South Island.
South Island
We drove through Nelson and Mel did a tandem skydive. I watched. We drove down the inland road on the west side of the island and through Arthurís Pass. It was too early there to ski so we drove to Mt Hutt to ski. The scenery here hasnít changed much from my last visit. The ski area is accessed via a white-knuckle ride on icy dirt roads with no guardrails. 1000+ ft drop if you mess up. Apparently a couple of Japanese girls did just that and fell 1,500 ft in their car, which rolled down onto a saddle stopping undamaged!!! The girls hiked up to the road and hitched the rest of the way to the ski area!!!!! Thatís what I call savoir-faire.
The skiing is good, but different than the US. There arenít any trees and the slopes are wide. Great for beginners. Only in the expert slopes will you find lots of obstacles (rocks, etc.). We skied a week and decided to head south toward Queenstown.
Queenstown is the "adrenaline capital" of NZ and lives up to the billing. Here you can white water raft, ski, paraglide, skydive, bungee jump and more. The town is in a beautiful setting on a crystal clear trout filled mountain lakes surrounded by snow-covered mountains.
We went to look at a 40M jump on the road into town and it was pretty good in that you could be dunked into the river below. We watched for a while and decided if we were going to do it, it would have to be at full throttle! Instead of the 3-pack of 2X40m plus a 70m jump, we would do the PIPELINE at 102m, 2nd highest in the world (No. 1 is 108m in Africa.).
I was confident all the way up to where they say, "5, 4, 3, 2,1, BUNGY!" As they counted, I looked down at the ant-like people who had gone before me and all those physics lectures started to repeat themselves in my head. I started thinking about how the bungee cord was tied onto me with --- a bath towel. The bungee cord hangs below and you have no sensation of safety, just wide-open abyss. After 2 countdowns and a lot of coaching by my free-fall professionals, I pressed the "I believe" button, pried my fingers from the rail and did a swan dive. From that point on everything was in slow motion and clear as a bell. I was high on adrenaline for over 2 weeks. You can jump off a crane, but until you jump into a wild canyon, there is nothing like it.
Next it was on to Fjordland, Te Anau Lake and Milford sound. A beautiful place where we did some trout fishing and ate roast venison provided by one of the guys staying at the Hostel.
From there it was down to the bottom and we explored the coast around to Dunedin. Here I vaguely remember going on a Brewery tour in the morning, a chocolate factory at lunch and a distillery in the afternoon. A good day spent.
Mel summed up most of the rest so I will go onto the North Island and the time we spent at Rotorua. This is the thermal and Mauri cultural center of NZ. Our big highlights included a day at the Polynesian spa and a Mauri Hangi (feast) in a traditional village setting. The Hangi was my favorite as we were greeted with the Haka, a traditional challenge/greeting where the host village tries to interpret the intentions of the visiting people (the Maoris fought constantly among each other and were known to virtually wipe out villages). We were just there for the singing and chow, so there wasnít any trouble.
I figure some of you are interested in visiting NZ so here are some typical prices ($NZ):
Fish and chips $3
Draught beer $3
21 bottle refill of beer $6
Bottle of white wine $9
3 L Box of Wine $14
Double room at a backpackers or campground (share facilities) $30
Gasoline $0.95/liter
Doz. eggs $2 60
Kiwi fruit $2 for a BIG BAG
Dinner out (main course only pp) $15
Swim with dolphins $55 (guaranteed to find some)
In hindsight it would have been about 30% cheaper to have purchased a ticket from LA to Australia with multiple stops. We were hoping to hitch on a yacht in Samoa and missed the season by 2 months.
Travel Tips~
The season for travel there is during the N. Hemisphere winter. The population is 3 million and they expect that many tourists each year.
Avoid taking a short trip (less than I month) during the school holidays as every destination worth its salt is packed, ski areas in the winter and the Northland in the summer. It is legal (and safe) to camp on the roadside anywhere in NZ, so a lot of people rent campervans to travel about. If you plan to cross on the ferry with a campervan, book well ahead to get the good price.
HP in New Zealand
I was able to visit the Nuclear Medicine group at Wellington Hospital and the National Radiation Laboratory in Christchurch. Both were interesting places with outstanding staffs. I made a short presentation on TLDs and they showed me around their facilities.
The practice of Health Physics in NZ is different politically from the US in that according to the man on the street; NZ is a nuclear free zone!! Since it is "Nuke free", it is hard to have a discussion or pass legislation on the use (or existence) of radioactive materials. To solve this problem the National Radiation Laboratory monitors the use of all radioactive material in the country and provides all the dosimetry of record (multi-shielded film badge). The NRL promulgates some thing like NRC Regulation guides to provide further guidance beyond their current law.
Yours,
Rob and Mel.
Note. You should see the video of the bungee jumps - especially the " 5, 4, 3...!!"
• Home • HAWAII • SAMOA • Fiji • NEW ZEALAND • AUSTRALIA • AUSTRALIA Part 2 • AN OVERVIEW OF SOUTHEAST ASIA • Malaysia and Singapore • THE PHILIPPINES • Thailand • CAMBODIA • CHINA • India • Nepal • India Part 2 •
Copyright © 2002 by Robert and Melissa Gunter. All rights reserved.