Australia Photo Gallery
Without a doubt, Australia was our favorite country. We spent 6 months driving around Australia. We drove from Sydney to Adelaide, then up the middle via the Oodnadata track to Cooper Pedy, then Uluru-Kings Canyon - Alice Springs - Katherine - Darwin - Broome - Perth - Around the SW Cape - Adelaide via the Nullabor - Melbourne - Sydney - Out of there!!

Most of our time was spent in the Outback. There is so much beautiful country to explore, and while you are there, you often have hundreds of miles of beautiful country to yourself. We will definitely HAVE to go back. We didn't have any time to see the east coast.
AUSTRALIA Part 1 Journal AUSTRALIA Part 2 Journal
• Samoa and Fiji Photos • New Zealand Photo Gallery • Australia Photos • Phillipines and Singapore Photo Gallery • Malaysia and Thailand Photo Gallery • Cambodia • Viet Nam Photo Gallery • China Pics • India Part 1 • Nepal Photo Gallery •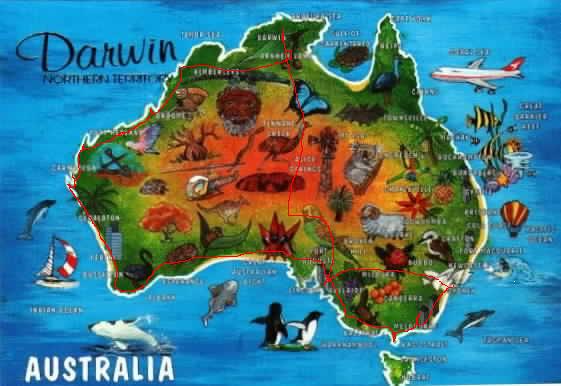 Well the image isn't great, but we landed in Sidney (SE Quarter)went straight to the middle, up to the top, across the NW, and around the west and south coast back to Sydney.

Copyright © 2002 by Robert and Melissa Gunter. All rights reserved.