VIETNAM
May 18, 1997 ó June 17, 199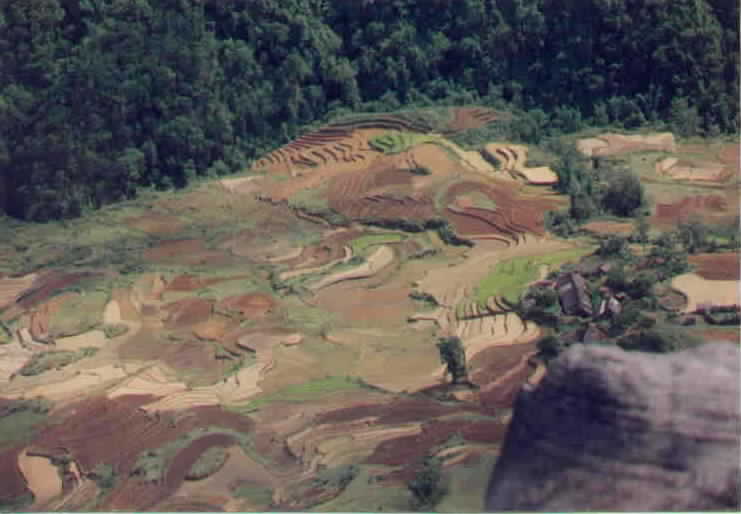 Costs: Hotel- $6ó8 for a nice room, Food- $1/meal some excellent, others, noodles
Vietnam was a highlight for us. We decided to take advantage of the well established tours and buses aimed directly at the backpacker market. This enabled us to relax and leave the planning to someone else. For those wondering, the Vietnamese were born capitalists. We loved it! ! Our overall itinerary was such: we started in the south in Ho Chi Minh City (Saigon), toured the Mekong Delta and than made our way slowly north through the narrow middle to Ha Noi. Here we made one side trip northwest (near the Chinese border) and left by train from Ha Noi.
One big surprise for us was the enthusiastic response received from the locals once they found out we are Americans. The children were especially lovely. They all study the USA in school and knew each state, their nicknames and capitals, industry and our governmental system. We were really surprised at the facts they knew. People would come up to us and thank us for being there. Everyone wanted his or her picture taken! As a side note, if you are planning on traveling to Asia bring along stamps, coins, pictures of yourself and usual life (house, school, the mall, weddings, families etc.) and postcards. They make nice gifts and are really appreciated by those who never have the opportunity to venture beyond their village, and probably never will.
The countryside is picturesque with small huts, dirt roads and lovely lotus flower ponds filled with water buffalo whiling away the day. The women still wear traditional ao dais (long shirts split up the sides over loose trousers). Conscious of the sun, everyone wears large conical hats. In the cities, the ao dais are brightly colored and covered in patterns made of sequins, they also wear long evening gloves, masks and of course large conical hats. Apparently, white skin is in and is desired, unfortunately. We found this to be true all over Asia, I found it sad. They think their color is ugly. A notion promoted by the cosmetics industry. Even cigarette and food ads opt for the Asians that look Caucasian in their adds. I will be writing letters when I get home!
Saigon
Ho Chi Minh City: a visit to the excellent history museum, the slightly lopsided war crimes museum (of course, this is American war crimes against the Vietnamese as we fought the war against a united country). It wasn't as bad as we thought though. Interestingly the government teaches that the American people were against the war and that the US government is to blame. We included a side trip to the town of Chu Chi with the VCís underground network of hiding tunnels and also a stop at the Cao Dai temple. Cao Dai is a religion that combines Buddhism, Christianity, Taoism and many more. The temple is an elaborate psychedelic thing. Our favorite part was learning about the seances where they got spiritual guidance from the likes of Victor Hugo and until recently, V. I. Lenin.
Tourist Bus
We got on the Sinh Cafe bus north and made stops in Dalat, Nha Trang, Hoi An and Hue. The drive was great as we were in a full sized bus with plenty of room. We just watched as the beautiful countryside passed us by. Dalat is a Hill Station set up by the French as a relief from the heat of the lowlands. It was a nice place to cool off a bit before heading on. Next stop was Nha Trang, home port of Mama Hahns party boat.
As we said earlier, the Vietnamese are born capitalists, and Mama Hahn delivered. For $7 we were treated to an all day snorkel/feast/party. It was the first chance many people have to let their hair down in VN and we all did. Aside from this there really isnít much to do as the beachfront looks like old Miami Beach. We headed on to our favorite stop, Hoi An. Hoi An is an old city with a lot of the French Colonial architecture still in place. In addition, there is a large Chinese trading community that has been here for hundreds of years. We enjoyed the wonderful seafood, quaint town, beautiful beaches, and the local tailors. We had a bunch of clothes made from silk. The next stop was brief in Hue as we made a beeline to Hanoi.
Hanoi
Hanoi is a nice looking town with lots of tree-lined streets. At the time it was fairly easy to get around on a bike, though the number of motorcycles is growing exponentially. We made all the sights. Ho Chi Minh looks very dead, and the Hanoi Hilton is nearly all torn down. We tried to go inside but the guard wouldnít let us. We took care of business, fought with the VN visa people, and got our China Visas before heading off to Sapa, a small town on the NW border with China near Lao Cai.
The North is very different than the south. The commies have been in power here for a long time and have managed to keep it fairly backward. In the south, you really couldnít tell you are in a supposed communist country, but up North you could feel it. They are trying to change. The South hasnít forgotten how to do business, and the North hasnít really done any for 50 years. Have bribe money - do business is the rule anywhere, but in the south you may actually get to do some business. Our fight with the visa people was case in point. You must have on your entry visa where you will leave if you wish to go overland. We decided to change our point of exit to Lao Cai rather than Dong Dang. This is supposed to be no problem. Unfortunately the visa people tried to direct us to a "travel agency" who would do this for a small fee of $50 each. We pointed in vain to the sign behind him that said this was the place to do it (in English no less), but it soon turned ugly. He tried to take our passports and Mel grabbed them back. We made for the door and our bikes for a hasty retreat. Dong Dang it was to be.
Sapa
Sapa was a fantastic spot up in the mountains and a fitting end to our VN travels. We stayed at a guesthouse conveniently located on the edge of town overlooking Franzipan (sp?) mountain (tallest in VN) and rice terraced valleys. The guesthouse was run by a great family who actually charged VN people over 2X the tourist price. (She didnít like the people with money in VN). Breakfast lunch and dinner on the porch to order with a bunch of lovely older village women coming door-to-door selling beautiful embroidery. They were a really nice bunch. We spent the days walking through the valley going from village to village enjoying the scenery. We also had a rare moment in traveling where there were 5 Americans and one Canuk in the same place. We partied hard, singing songs like the Star Spangled Banner and American Pie halfway through the night. Well, reality set in and we had to leave VN as our visa was running out. We headed back to Hanoi and caught the train to China. But thatís another story.
Next time we will spend more time at the beautiful deserted beaches we passed by on our bus. It is by far our favorite country in Asia.
In conclusion, SE Asia was as much a joy to travel in as it was a pain in the rear. We went from emotional highs to lows daily as we were confronted with both the abject poverty and the cultural differences. For each individual, these countries hold something in them worth the time and effort involved seeking it out. Costs are reasonable. It is easy to get around and, once off the beaten track, the people are wonderful. If you need it, 5-star accommodation is always nearby (at $l00ó$200 USD a night).
We are hoping to send our China update soon. Take care and enjoy the approaching holiday season.
Much Love,
Mel and Rob
• Back to Cambodia • Home • Journals • Vietnam Photos • An Overview of Southeast Asia •